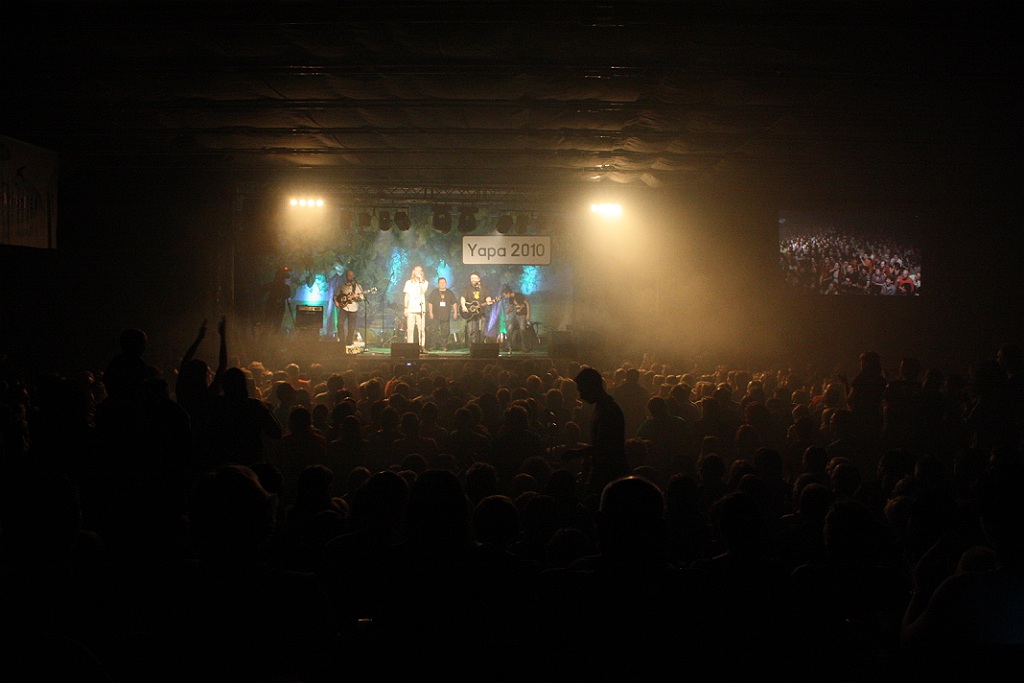 somewhere around two weeks ago i've been in the city of Łódź. there were 2 reasons for this. first one was concert of Rammstein. this was one of the best concerts i've ever been on. the funny thing is that you could take a deaf person for this show and (s)he'd be still having a great time. so much pyrotechnics in one place, along with good music… nothing more required! :)
but this was just a beginning of my time there. the unexpected main event was YAPA1) – student's festival of tourists' song. why unexpected? well – i already had my ticket for some time, i planned being there for few months or so… although i was not expecting what i saw. i've been on lot of different concerts in my life, but never ever on anything even remotely close to YAPA! i know no words to describe this specific climate in the air – song poetry, jokes, constant talking between artists and public… it started at 7p.m and when i had to go out it was already 2:30a.m., but concert still lasted! as i found out, there were 2 more bands playing after i left. my bad luck was that i was able to be only on 1 of the four parts of whole festival. i won't let this happen then next year – YAPA is just once per year – such an experience and so little time to enjoy it.
YAPA, since 1974, when it all begun, always starts with Can-can dance, including the public. then there were few classical, polish tourists songs sung in memory of Zenek Janek – one of the founder of YAPA, who dies few months ago.
whole festival of YAPA 2010 can be listened from the internet. tens of hours of great music, giving a taste of this climate, that cannot by described by words. someone said that writing about music is like dancing about architecture. nothing more, nothing else! i strongly encourage you to listen to the saturdays' night concert opening. there are songs that are widely known, and will never be forgotten:
9:34 – "Grosza nie mam"

16:25 – "Mój świat" (first song sung on first YAPA's edition)

23:05 – "Połoniny niebieskie" (sung with the public, in memory of Zenek Janek)
let me introduce you with part of "Grosza nie mam" (along with english translation):
"grosza nie mam i nie będę nigdy swego domu miał ale za to robił będę to co tylko będę chciał…" (PL)
"i don't have a penny and i'll never have my home but instead i'll do always whatever i want…" (ENG)